Harnessing the Potential of Augmented Reality (AR) in Digital Marketing: Innovative Strategies for Engaging Customers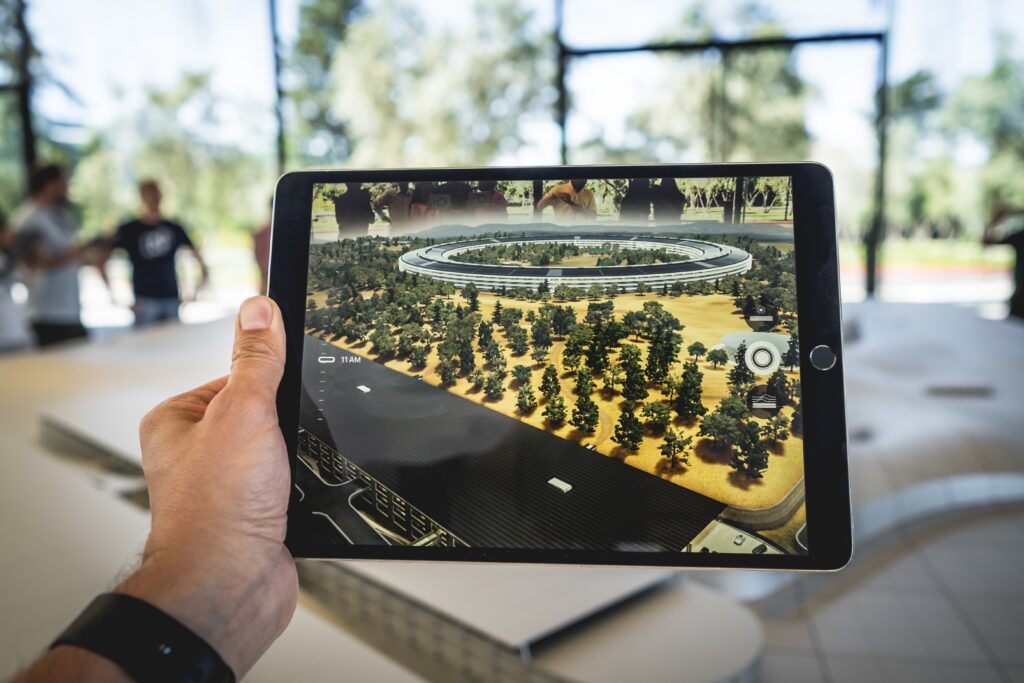 Any brand that wants to succeed must incorporate technology into its marketing plan. Consumers now find themselves immersed in a new world when they refer to how data is received thanks to smartphones, social media platforms, and the internet. Thanks to technology advancements, businesses can now interact with consumers while also maintaining constant contact with their target demographic.
Augmented reality: What Is It?
Augmented reality (AR), also known as a form of mixed reality, improves a user's actual environment by overlaying digital content directly on top of it through a smartphone or other device (i.e., it augments the user's real-world surroundings).
If you look via your phone's camera while inside your house, for example, you'll still recognise the family room and everyone in it, yet there will be some artificial augmentation, like written descriptions or a dog that isn't actually there. If you go into your backyard, you might see a dinosaur roaring at you or a UFO hovering in the distance. Everything is conceivable!
Here are some current applications for augmented reality:
A path may be arranged by navigational systems over the actual picture of the road.
On a football pitch, sportscasters can draw lines that represent and break down plays.
You can navigate large supermarkets by using a map that shows what's in each aisle.
Military pilots' helmet visors may show statistics such as altitude, velocity, and other information.
Before using an actual patient and operating table, medical students and even experienced surgeons can practise or carry out operations on a virtual patient.
Let's talk about several ways augmented reality can fundamentally alter your digital marketing approach:
Enable you to capture customers' attention
Getting people's attention is the basis of effective marketing. It used to be very easy, but with the introduction of new technology, it has grown more challenging. You must learn cutting-edge techniques to increase brand exposure and visibility.
You can achieve this through AR technologies. You can draw a lot of attention from your target audience with AR in ways that are not possible with more conventional marketing strategies like TV, billboards, and print media. One of the best things about augmented reality is how quickly you can reach a large number of people.
Additionally, you can thrill customers, compelling them to make a purchase from you.
Product visualisation as a part of a digital marketing strategy
Augmented reality gives today's consumers the opportunity to visualise products, which empowered them.
Product visualisation can be defined as a process in which organisations employ images and graphics to visually explain their products to clients. To date, many companies are achieving this by integrating visual product configuration tools into their online shopping sites and showcase apps.
Take, for example, IKEA. The Swedish furniture retailer recently replaced traditional photos with 3D simulations. The digital catalogues and IKEA app allow people to picture how a given colour and size of furniture could appear in their residences.
According to a poll, more than 75% of buyers are concerned about buying the incorrect size of furniture. AR apps are fantastic technology breakthroughs that can assist shops in reducing the stress of returning and regrets.
Allowing shoppers to virtually experience products before purchasing
You may use your mobile device to test your next pair of eyeglasses before purchasing them.
Integrating augmented reality technologies into your digital marketing approach can help buyers comprehend what they're buying and how exactly cosmetics, apparel, and devices, etc. will function for them.
It's all about virtually placing your goods in the hands of customers so they can make more educated selections. Warby Parker, a direct-to-consumer eyeglass business, has introduced a 'virtual try-on' system which enables clients to try on glasses from the ease of their own homes.
Simply download the app, choose the kind of the frame you want to try, and then enable the feature that exposes the front camera and places the glasses on your face. Even if the wearer shifts and tilts their head, the spectacles remain in position.
Making a buzz within the brand
Augmented reality can help your digital marketing strategy in both direct and indirect ways. Even if you aren't introducing a new product, you may employ AR technology to improve your brand's reputation and raise awareness among your target audience.
You may generate a lot of buzz for your new brand by providing an unexpected reality experience. Because augmented reality is still a new concept in the industry, including it into your marketing strategy can help you generate lasting impressions for consumers who interact with your business.
Take a cue from the cosmetics brand that flourished despite the COVID-19 outbreak.
During the pandemic, Sephora introduced augmented reality software that allows customers to buy perfect makeup. The company collaborated with the augmented reality startup ModiFace, which scans the human face and allows users to try on hundreds of cosmetic goods, enabling them to choose products based on their facial characteristics and demands.
AR technology for bringing objects to life
Augmented reality is an excellent approach to improving the efficacy of your digital marketing plan. AR technology is an excellent method to enhance the tourist experience by bringing the dead to life.
The software is popular among tourists who use it within the museum to learn about the history and observe how the dinosaurs and artefacts on the show appeared thousands of years ago. This is a fantastic method to improve tourism and academic experiences because technology allows individuals to interact with the artefacts on a deeper level.
Increasing engagement through digital packaging
Every advertising learner and professional understands the importance of packaging in influencing purchasing decisions. The way you present yourself is your opportunity to interact with users. You may use AR technology to make your dull and boring packaging seem beautiful and carry on detailed data that you can simply write on the label.
AR is an excellent approach for all of your customers to learn more about a product by viewing it using specially built apps. You can share unique, entertaining, and relevant material using an array of digital platforms.
Text or 3D animations could be used to convey this information. For example, The British Museum recently announced a collaboration with Samsung to develop AR apps for this reason.
Gamification in digital marketing strategy
According to a recent report published by an educational writing service, gamification has quickly emerged as a top digital marketing approach. A lot of brands have used this strategy to attract the market's attention and give exceptional value.
It includes design features that might entice game enthusiasts and make them want more. The entertainment channel from the United States uses gamification to advertise its mystery series 'Dig.' The cable channel released a smartphone app called 'Dig Decoder' that offered clues about the game.
Users can look for more game clues concealed inside the gaming magazine, advertisements, and print adverts by using the app's viewfinder function. You could argue that by integrating augmented reality into your next online advertising plan, you can provide viewers with even more incentive to enjoy the show.
Conclusion
Augmented reality has made its way into equally major and small firms' strategies for digital marketing. Marketing managers can use technology to make their online advertising initiatives more unique and engaging by allowing customers to connect with the brand.
This article offers numerous instances of how brands are employing AR technology to capture customers' attention and develop emotional bonds with them, which serve as a basis for products.