The Basics Of SEO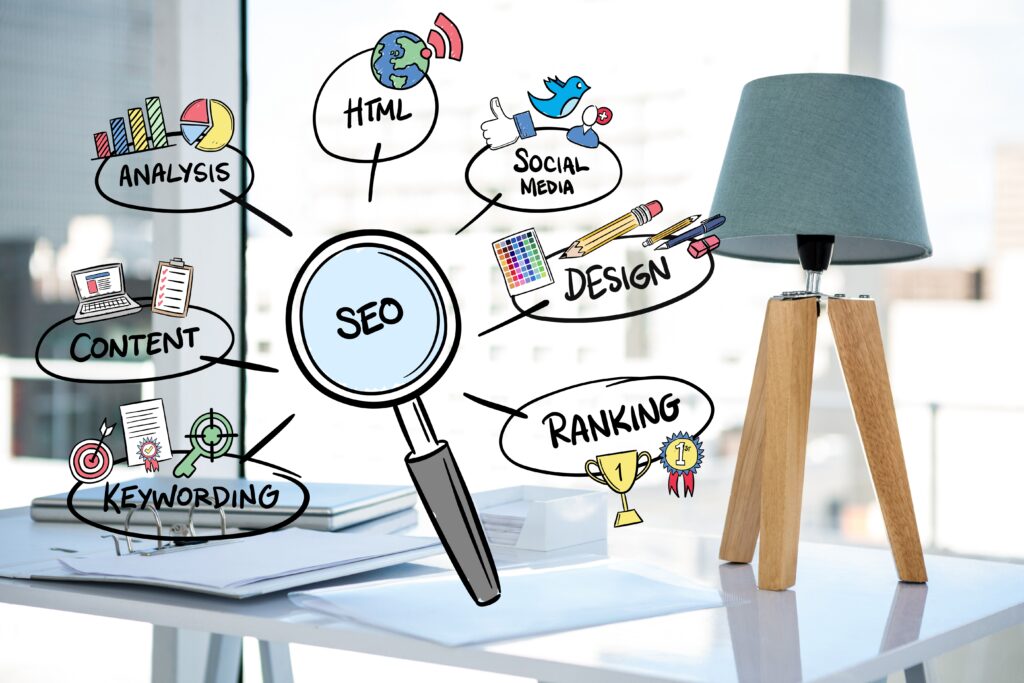 Search engine optimisation (SEO) is a useful marketing strategy that directs natural traffic, or future clients, to your website. SEO is essential, especially for individuals who manage e-commerce websites and small businesses. If you don't have a significant marketing budget to set aside for the employment of SEO specialists, don't panic; there are plenty of easy SEO tactics you can employ and easy tools for helping you.
Once you are familiar with the basics of SEO, you can decide if you want to engage a specialised SEO professional to help you enhance your website.
Here are the six actions you need to take right now to succeed with SEO:
Establish a baseline for organic search
SEO works to enhance your website's ranking in search results. Identifying your baseline is the first step. How accessible is your website right now? Your solution is provided by Domain Overview. With SEMrush, you can check how prominent your domain is on desktop and mobile devices and obtain a summary of both organic and paid visitors (e.g., from pay-per-click ads on Google). Even metrics like backlinks are covered in the thorough reports.
But, an SEO audit should cover more than just your website. In order to better understand how much of the search volume in your business is coming from the websites of your rivals, it ought to incorporate those of your own. Our domain overview tool displays your top organic rivals—websites that are vying for internet attention in your industry. This allows you to spot prospective growth opportunities and might be an inspirational source.
Configure Search Analytics
The tools provided by Google and Bing are additional resources that marketers may utilise to establish a baseline for their search position. We provide a step-by-step tutorial for using one of these analytics programmes to track your domain below.
How to create a Google Analytics account is as follows:
Establish your "property" (your website).
Configure your property's "reporting view." This allows you to filter data according to specified sales regions or IP addresses, for instance.
After that, Analytics will ask you to add a tracking code to your website so that Google can gather information.
After that, you can begin seeing data. This Google document describes how to filter various views to concentrate on the data you consider most important.
As an alternative to Google Analytics, Bing Webmaster Tools can be configured as follows:
Create an account using Bing Webmaster Tools. A Google, Facebook, or Microsoft account may be utilized to log in.
Connect your account to your website.
You must demonstrate your ownership of the website. Bing has 3 choices for doing this: adding a CNAME record to DNA, meta tag authentication, and XML file authentication.
Then you may start tracking statistics and upload your site maps. This beginner's guide walks you step-by-step through the procedure.
Researching relevant search terms and keywords
Keywords are the basis of a successful SEO campaign. These are the primary phrases or words that people use to look for your website on search engines like Bing or Google. It's important to pick target keywords that correspond to the information on your website and the terms of search used by your intended audience. Using a keyword research tool will help you discover the most effective terms.
We have multiple tools, for instance, that can assist with keyword research. You can check which keywords are most commonly searched for and which keywords send visitors to the websites of your competitors with our Organic Research Tool. Discover new organic rivals quickly, identify who you're up against for first-page SERP positions, track domain motions, and more!
Publish Content That Is Optimized
You can begin creating high-quality content that will account for a sizable portion of your content marketing strategy once you've identified valuable keywords. Do you have questions about creating your own SEO content? Use these fundamental guidelines:
Add a main long-tail keyword in the text in a natural way. Avoid using "keyword stuffing." The overuse of keywords has a negative impact on search engine algorithms.
Add the main keyword as an H1 header in the title.
Choose supplementary keywords that make sense in conjunction with the principal keyword. Hence, "dentist" and "dental problems" would make logical secondary keywords if you were writing a page about root canals for a dentistry website.
You may also think about creating content pages for these supplementary keywords and then linking to those pages internally in future content.
Add at least one "rich" piece of information, such as an infographic, video, or image. Search engines will rank the page higher as a consequence of their recognition that this adds value to the material.
In the page's title tag and meta description, use the main keyword.
If there are any plug-ins you can use to optimise your material, do so. For example, WordPress has a variety of plug-ins that can improve your on-page SEO efforts.
If you're updating content, make sure to upload the new material to the current landing page or delete the older content before creating the new page. Avoiding duplicate material will aid in improving your Google search engine rankings.
Check exploring a solution like PageImprove if you're having problems changing meta tags, copy, and other page elements since your developer team is coping with a huge backlog of change requests. You can make immediate, indexable, and reversible website adjustments with PageImprove and Edge SEO solutions.
Examine Your Links
The value of the content to the user is given priority by search engines. Even Google has developed a set of arbitrary standards for evaluating value, known as the EAT principle: expertise, authenticity, and trustworthiness. Backlinks, or links to your website from other websites, aid in establishing your EAT. Popular, highly trafficked websites usually have the most helpful links, so you should aim to get links from them as part of your approach to digital advertising.
In addition to anchor texts and IP distribution, Backlink Analytics gives information on referring domains. To find out which websites in your field have historically accrued the most backlinks, you may use utilise a backlink gap tool. This is a great technique to find out if you're missing any backlinks. Then, you can fill in these blanks.
Creating shareable infographics and publishing guest posts on other platforms are just two of the many efficient link-building techniques available.
Look into Technical Problems
Aside from content, your SEO campaign must also consider technical concerns. Start by using this technical SEO check list. For instance, you ought to confirm if HTTPS is being used, as this is a recognised rankings element in search engines. This provides encryption to safeguard any potentially sensitive consumer data transmitted through your website. Also, the aforementioned book offers tips on how to increase page performance, correct crawl issues, and more.
Keep Current
The field of search engine optimisation is continually changing. Specialists devote their entire careers to it because of this. Search engines like Google are constantly modifying the parameters that affect search engine results pages and refining their algorithms (SERPs). You can keep up with the newest by following industry bloggers and keeping up with SEO news. A wonderful place to start is the Google Search Central blog, formerly known as the Google Webmasters blog.
Conclusion
That's right—targeting a moving object is similar to SEO.
Yet practising the abilities behind these fundamentals will ensure you hit multiple home runs.
An important lesson from this post is that, even without tech expertise, there are proactive strategies you can employ to enhance SEO.
Use straightforward methods and techniques to capture the crucial metrics, such as links or content.
While developing your website, keep both your customers and the search engines in mind.
Don't forget to optimise for mobile to remain on the forefront of trends.
These actions are open to all.