WordPress VS Shopify for E-commerce Business (Which one to Choose?)
When considering launching an online business, it is imperative to consider the required tools between WordPress vs shopify. And while there are various e-commerce platforms on the market, Shopify and WordPress remain the most prominent and for good reason.
If you already have a WordPress website ready for your business, it would be much preferable to go with WordPress for the e-commerce bit as well. All one needs to do is install WooCommerce, and then simply launch the e-commerce store as an element of the existing website. It also means equals less work on your part.
Shopify is the preferred option for those who don't have a website yet, and hence, would want a hands-off, effective and dedicated solution. Shopify comes with plenty of advanced features to make your life way easier.
WordPress or Shopify: Which is Better?
For e-commerce via WordPress, having a WordPress website is a prerequisite to using WooCommerce. But this also gives you direct access to multiple other functionalities, varying from a greater selection of themes and apps to managing content to SEO ranking.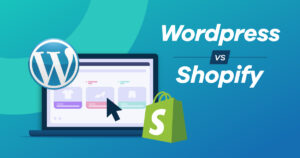 If you prefer a more first-hand solution and have the general technical know-how, it is much more plausible to give WooCommerce a go.
On the other hand, providing unparalleled flexibility and power-packed performance, Shopify is an all-inclusive e-commerce website builder that will provide you with an excellent website in minutes.
Even if you're new to things, you can always rely on the 24/7 Shopify support to help you with the technical bit.
WordPress (WooCommerce) pros:
Free and Open Source: WooCommerce is completely free and open-source, making it a highly sought-after option for startups and small businesses wanting to create an online selling platform. It integrates perfectly with WordPress, and the fact that any user, designer, or programmer can alter its code bestows you access to a large community where you can get inspired and share ideas to simplify site management.
Completely Customizable: Businesses have the freedom to choose any desired theme from a wide variety of professional-grade and high-quality themes. You can dictate exactly how you would want your site to appear by customizing various sections like the header, footer, checkout, product pages, and so on. It is even simpler if you have CSS, HTML, and PHP style code knowledge.
Pliable Product and Inventory Management: Businesses can create web stores with WooCommerce to sell both physical and digital products. One also has the option to keep adding products regularly and set different product types. What's more, the platform makes inventory very simple thanks to its WordPress-centric user interface that allows businesses to keep track of current stock levels and manage day-to-day inventory.
So Mobile-Friendly: Working via mobiles, on the go is how this generation makes its way about the work-life. It's why WordPress's perceptive and mobile-friendly designs and themes are a huge plus point. One also benefits from its emergent responsive web technology without the hassle of having to create new websites.
Important SEO Capabilities: WooCommerce SEO isn't challenging anymore, owing to the WordPress plugins and extensions one can choose based on their precise needs. Businesses can select any plugin or extension for optimizing their website. Furthermore, the extensions and plugins undergo regular updates, which makes them secure and efficient at all times.
Uncompromised Cybersecurity: As hackers keep coming up with more sophisticated methods to steal your private data, consumers today are more aware of their rights to privacy than ever. Keeping this in mind, WooCommerce prioritises privacy and protection in all transactions to create a trustworthy and secure environment for its users. There are periodic updates to ensure that the e-commerce platform stays ahead of security issues and is aligned with the updated versions of WordPress.
Multiple Payment Gateways and Currency Support: WooCommerce provides geolocation support that enables businesses to accept multiple currencies from consumers across the globe. Possessing multiple payment gateways and shipping options enables businesses to expand their reach globally and access a larger market. This, in turn, help boost sales and revenue. And from the customer's viewpoint, the flexibility to pay in their specific currency and tax rate makes things very convenient. It's a win-win for both sides.
WooCommerce Minuses:
Lacks Advanced Features: The focusing point of WooCommerce is to help developers build web stores, so businesses can't use the platform as a robust e-commerce content management system or CMS. This is essentially because it lacks some of the advanced features that make store management uncomplicated. Furthermore, many of the themes and features to improve customer experience cost money, which increases the project overheads.
Frequent Updates: The regular updates ensure that your online store has optimal security and is aligned with WordPress, but many-a-times, it is just too much. Having too many updates also makes using WordPress for e commerce more time-consuming. Therefore, one has to be prepared to handle common issues associated with updating a WordPress plugin–such as data backup and testing.
Not Very Beginner-Friendly: Steering through WordPress web design, development, and maintenance is difficult, especially for people who don't have prior experience or knowledge about web development and marketing—and WooCommerce is no exception. As it offers barely any maintenance support, businesses have to depend on online forums for solutions. One also needs to have a fair level of web knowledge to understand which advice to follow. Plus, if you need to customize your website, you need coding knowledge.
Performance Glitches: This is an issue surrounding too many plugins. WooCommerce users often have to install many plugins to add functionalities, but they have to pay the price elsewhere. Mainly, plugins take up a lot of memory. Due to which, you may face slow downloading speed and average performance, which will make the process frustrating. You would need some programming knowledge to simplify this process.
Shopify Pluses:
Professionally Designed and Mobile-Responsive Themes: Shopify provides ten free themes and 64 premium themes, starting from $140. Every single one of them is mobile-responsive. What this means is your website will automatically reformat to fit and shine on the smaller screens, appealing to consumers who have logged on from their mobile phones. The themes appear spectacular, professionally-designed and are available in different styles to match your brand best.
Greater Security: Did you know that a consumer will wait for only five seconds for a web page to load, and if it takes any longer than that, they'll simply abandon it? Shopify understands this, which is why they impart 100% SSL to keep their sites brisk. Addedly, since consumers mostly pay via credit cards, it takes the initiative to keep things super secure. Shopify hires cybersecurity experts to keep their website hack-proof engage with multiple payment providers to keep checkouts fast and secure for customers.
In-House App Store: Shopify consists of an in-house app store as one of its biggest USPs that contains over 1200 plugins and apps. This means businesses can find anything they would possibly need by either paying the price or potentially finding free options. One can use these apps to automate and streamline all business processes, making them faster while also boosting the efficiency of other processes like accounting, inventory management, and shipping.
Custom Domain: Shopify provides with a custom domain name after signing up–one you choose for your company–to brand your business more effectively. This also provides you with the flexibility to handle your domain on the same site location as your domain store. Hence, you can make any changes to your domain site as well as your domain store.
Top-Notch Analytics: Shopify also bestows plenty of built-in analytics features to keep track of one's store, including customer behaviour, stock levels, and conversion tracking. This way, businesses have complete knowledge about their store–how it is doing, and which parts need to be optimized for better results. These detailed analytics also allow you to keep track of online store sessions, products, total sales, returning customer rates, and the average order value, etc.
24/7 Customer Support: Shopify has millions of sites around the world. Whilst the ecommerce-rich features of Shopify are a great leverage, its efficient and always available customer service is also one of the main reasons customers love the platform. Businesses get direct access to a massive database of FAQs, plus email, chat, and phone support with a knowledgeable rep on the other side.
Shopify Minuses:
Transaction Fees: Beginning with $29 per month, Shopify provides you with several subscription plans to choose from based on your needs. Though there are two problems here, one that the beginner plan comes with very basic features, and second, $29 for an e-commerce platform isn't cheap. Shopify does support multiple payment gateways, but if you don't use Shopify Payments, you will have to pay an additional transactional fee on top of the payment processor fee (PayPal or Stripe).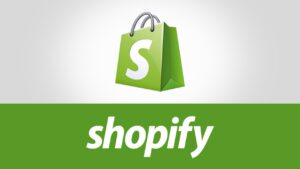 Customization Limitations: Shopify is definitely customisable; it just has some unavoidable limitations. If one wishes to unlock additional features, they will have to work on their coding because otherwise, it will remain locked. Besides this, you can customize your site without spending long hours doing comprehensive coding on their platform.
Steeper Learning Curve: All e-commerce platforms have a learning curve, but Shopify has a slightly steeper one. What further confuses things is the website's jargon. For example, instead of Categories, Shopify uses Collections, which might confuse some consumers. The main problem with Shopify jargon is that it unnecessarily complicates the user experience.
Product Filtering and Categorization: It is in strong opinion that Shopify's search mechanism needs to be more efficient, considering the millions of users on the platform. For instance, when one searches for jeans, they will see before them a listing for jeans. However, you are unable to narrow down your search to view "light wash jeans." There is no option available to narrow down one's search, and even if they do, the filter will apply it across all products. This reflects negatively on some consumers and they hesitate from giving your store another shot.
Lacks Email Hosting Facility: Shopify does not provide its users with an email hosting feature, which is why businesses can't host a domain-based email address like 'info@mybusiness.com'. The alternative here is to set up email forwarding, which will forward all emails sent to your domain-based address.
All in all, one cannot simply choose between Shopify and WordPress believing one to be the best all succeed in all aspects of e-commerce as each has its own advantages and drawbacks.
While WooCommerce is a better choice for those having WordPress-powered websites, Shopify is considered to be one of the best e-commerce website builders that provides excellent support to help you with the technical stuff. In the end, it all comes down to your business's specific needs and requirements.