5 Guest Posting Benefits & Importance in SEO Strategy
Guest posting has evolved to become one of the most effective Search Engine Optimization practices for any website, ranging from everyday bloggers to bigger corporations. One of the main difficulties for any online business surrounds getting their messages to any potential leads, although a solid social media strategy will be beneficial, it takes a while to produce profitable results. This is where guest posting can lend a hand.
What is guest posting?
Guest posting, also called "guest blogging," is the act of writing content for a different company's website than your own. Usually, guest bloggers write content akin to blogs within their respective industry so that they can attract traffic back to their own websites.
It is insinuated to be counterproductive to spend time writing articles or blog content for other websites (that may even be for the competition no less), when you should be using that time to create content for your own website. But the opportunities and advantages that guest posting offers can be colossal for one's SEO and sales goals.
Some key benefits of including 'guest posting' in your SEO strategy:
1. It provides quality link building:
Guest posting bestows businesses with a way to acquire natural backlinks. Search engines give great regard to the number of quality links pointing to one's website at the time of determining that website's search ranking.
Also read —> Social Media Management London
The links that one receives, represent an exceptional reference to their brand. Guest posting sites will provide you with the opportunity to include one or more of your own website links. Herewith, one can create a quality link-building strategy.
2. Helps you bring in new audiences to your website:
Contributing guest posts to other websites greatly boosts referral traffic to one's own website. Guest posting bestows you with an added built-in audience.
Attaining new audiences increases traffic to your website causing your web pages to accelerate their ranking in accord with the search engines. It enables you to connect with audiences outside of your target market.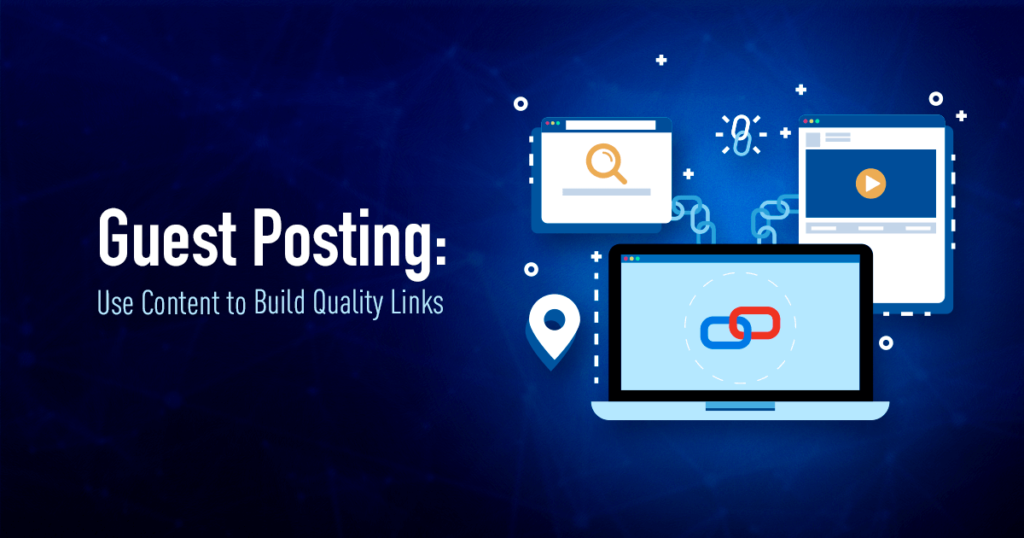 Guest posting lets you act as an asset of information for your customers. You will be able to create a genuine connection without coming off as too salesy. This connection will act as a proof that your business is valuable and trustworthy. Not every SEO guest post will be able to accelerate sales right away, but it will surely help in building brand awareness and gaining recognition.
3. Strengthening online authority:
Blogs and SEO increase brand exposure, but your own blogs might not be able to gain as much traffic if the brand itself is not well recognised. Guest posting enables consumers to be introduced to your brand from a credible source.
The guest posts created by you should offer quality content and convey enthusiastic impressions of your brand. After this, as you get more and more people to your website via guest posting, you will be able to establish your brand as well-recognised.
4. It enables you to foster new business relationships:
When your business writes posts for another webpage, it enables you to create new business relationships. As you share your knowledge and resolve with other companies and brands, your digital footprint will effectively grow.
This is a productive way to allure new guest posting opportunities and come across new websites where you can be a speaker. Hence creating a more comprehensive network of professionals that will surely benefit your business in multiple aspects.
5. Noticeable growth in sales:
There exist a variety of SEO strategies and tips that you can use to escalate your sales, but guest posting assists in quite a very unique manner. These posts shorten the sales cycle.
Also Read —> Adwords Agency London
When you post your blog or content on other popular blogs, it provides you with a channel that can immediately assist in building brand awareness for your target consumer base. As a result, you end up with a shorter cycle for all of your products and services.
A high-quality and well thought through guest posting strategy will place your posts and brand in front of individuals and brands who are most likely to convert to customers.
It was put forward via research statistics that 75% of searchers never click past the first page of the search results. Hence, if your website does not rank high on search engines, your business could be missing out on a lot of potential customers.
Guest blogging will variably upgrade your website's position on search engines giving you work with the right SEO agency. When one guest blogs, they get to write and provide content for authoritative websites but in turn reap benefits for their own brand.
There are numerous SEO techniques you can include and implement into your digital marketing strategy to effectively increase your rankings. An SEO guest post can do wonders for your company or brand provided it is used effectively.